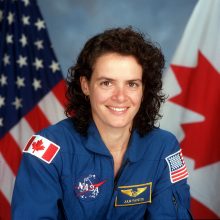 NASA's Julie Payette is accomplished in more than just space and engineering studies. She is a singer and pianist having performed with the Montreal Symphonic Orchestra Chamber Choir, the Piacere Vocale in Basel, Switzerland, and with the Tafelmusik Baroque Orchestra Choir in Toronto, Canada. She plays the flute as well.
She flies jets and competes in triathlons, this being enough of an accomplishment for the average person, she has also been to space and since September 2000, is Chief Astronaut of the Canadian Space Agency.
Her career with the Canadian Space Agency (CSA) began in 1992 when she was selected from a group of 5330 applicants to fill one of four positions. She completed basic training and began work with the Mobile Servicing System (MSS) as a technical advisor.
She started training with NASA in 1996 to prepare for her first flight in 1999, the STS-96 Mission. Payette is the eighth Canadian in space, the second Canadian woman and the first to enter the International Space Station and contribute to its assembly.
Her most recent trip into space was in July 2009 when the crew of the Space Shuttle Endeavor traveled to the International Space Station.