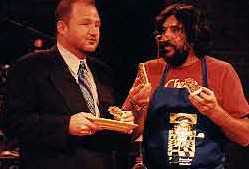 If the name Zal Yanovsky isn't familiar to you then you probably didn't grow up in Kingston, Ontario. Perhaps the band "Lovin' Spoonful" is familiar? How about the songs "Summer in the City"? "Do You Believe in Magic"? "Did You Ever Have to Make Up Your Mind"?
Yanovsky and John Sebastian formed the Lovin' Spoonful around 1965. Prior to that he worked with Denny Doherty (fellow Canadian) and Cass Elliott in a band called the Mugwumps.
Lovin' Spoonful was a short-lived endeavor because Zal was voted out of the band when he turned in his pot dealer after being arrested for possession. He went on to create a solo album called "Alive And Well In Argentina", and also co-produced other albums.
Eventually Zal made his way back to Canada and to Kingston where he and his wife opened the renowned restaurant, Chez Piggy. Zal often made table rounds to chat with patrons of his establishment.
For those of you that haven't had the pleasure of dining at Chez Piggy; it was originally a livery stable down a quaint lane lined with old limestone buildings in downtown Kingston. Many people credit the renovation of the livery stable as the impetus to revitalize historic downtown Kingston. Recently the city extended the alleyway and are displaying unique art, making it even more welcoming and interesting.
Yanovsky was inducted into the Rock and Roll Hall of Fame in 2000.
Image courtesy of Open Mike with Mike Bullard