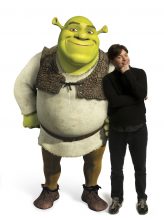 For those who love to hate Toronto, well, Myers' is a Toronto kid, born in Scarborough in 1963.
Myers has numerous awards (not all of them complimentary), including:

Several American Comedy Awards (mostly for his work on Austin Powers)
An Emmy Award for his writing talents
The Legacy of Laughter Award

Married twice, Mike's second wife is former café owner Kelly Tisdale. The couple's only child, their son Spike, was born in 2011.
Including charities and causes, Myer's supports over two dozen, including such well-known ones as AIDS, Make Poverty History, and various causes that support hunger, and children.
Many people hold dual-citizenships: Myers has three, holding Canadian, American, and British citizenships.
Most fans easily recognize Myers' voice behind the hit movie series Shrek. Including the last one he did in 2010, he's appeared in no less than six Shrek movies.
In a an interview he did with CBS a few years ago, Myers revealed that he spends three years between his films. The first, he takes off, living life as himself (must be difficult!). The next two years, he researches and develops his characters.
Myers is seriously being considered as one of four actors to play Elton John in the biopic; a film where the work has already started.
How about Austin Powers, the musical? News from late 2011 tells us it is in the works!