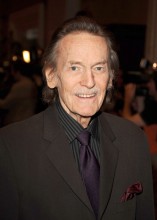 Even if you're not from Canada, if you're into the folk scene, then you have probably heard of Gordon Lightfoot. The highly decorated singer-songwriter has graced venues all over the world for over five decades, earning himself numerous accolades on his path to become a folk-rock legend.
On November 17th, 1938, in Orillia, Ontario, folk music was blessed with one of the greatest and most prolific artists to ever play. Born to the manager of a dry-cleaning firm, it was his mother who truly recognized his potential, and it was she who set him on the path to become a performer. He first studied vocal performance with Pastor Ray Williams of St. Paul's United Church, located in his hometown of Orillia. In a 2006 interview with the United Church Observer, Lightfoot pointed out that it was Williams who taught him to sing with confidence while expressing true emotion.
Throughout his youth, he performed locally in operettas, as well as gaining radio airtime in Orillia. He soon garnered an appearance at Massey Hall, located in Toronto, after winning a vocal competition as a "boy soprano," a term used for male child vocal students whose voices have not yet deepened. At the time of his Massey Hall performance, he was twelve, and through his teenage years, he continued to develop his performance skills by doing shows in Muskoka, Ontario. It was in his high school years that he first learned to play guitar, and soon after, he embarked to continue his studies at the Westlake College of Music.
Although Lightfoot studied jazz throughout his college days, it was there that he was influenced by folk artists such as The Weavers. Before he launched his folk career, however, he focused heavily on songwriting, working on things like commercial jingles. Soon after college, he moved back to Toronto, where he would first begin his folk artistry.
From there, Lightfoot embarked on the beginning of his impressively long career, which he continues even today. For over 52 years, Lightfoot has continued to release folk music gold, releasing 19 studio albums, 14 compilation albums, and a whopping 42 singles to great acclaim, grossing over 7 million record sales in the process. He has released under five different record labels, earning multiple CRIA and RIAA certifications, including the platinum-selling Sundown (1974) and Summertime Dream (1976).
It is impossible to accurately describe the music of Gordon Lightfoot succinctly. I personally could go on and on about how great it is, but I will leave it up to you to listen and decide for yourself. I quite honestly have no single song or album recommendation, as just about all of his music is fantastic to listen to. His musicianship and passion for the craft is outstanding, which transfers into his music and conveys every bit of emotion that Lightfoot possesses into his songs.
If I were to give a solid recommendation to anyone who has not heard of him, I would suggest seeing him live. Even at the ripe old age of 73, he continues to tour fairly extensively through Canada and the U.S., and tour dates can be found here for those who are interested. Even at such an old age, his voice is still wonderful, as evidenced by this recording of one of his more popular tunes, "The Wreck of the Edmund Fitzgerald":
Unfortunately, in the last ten years or so, Lightfoot has repeatedly had health problems, but each time he has recovered and continued to perform. Even so, he has soldiered through his struggles, but I would recommend seeing him as soon as possible if you have not before. 73 is a rare age to still be extensively performing at, and Lightfoot hasn't let that slow him down as of yet, so take a chance to see him live.
He is a legend in the genre, having received numerous awards, including 16 Juno Awards and 5 ASCAP songwriting awards. He has been inducted into the Canadian Music Hall of Fame in addition to the Canadian Country Music Hall of Fame. In May 2003, he was made a Companion of the Order of Canada. The list goes on and on.
I cannot sum up how much of an influence Gordon Lightfoot has had upon the folk genre, as he has had a massive impact upon a multitude of artists and consumers with his legendary repetoire of music. If by some chance you have not heard of him or listened to his music, I can only recommend that you remedy that as soon as possible, as he is one of Canada's most legendary musicians.